https://www.alalamtv.net/news/5187381/هل-ستغلق-أمريكا-سفارتها-تمهيداً-لخروجها-الكامل-من-العراق؟
28 September 2020, Monday, 02:08 Greenwich time
The recent statements of the American State Secretary about closing the American ambassador in Baghdad caused big activity in the social media between those, who saw the American stance serious and those who consider it a trick and misleading statement.
In an opinion poll by the al-'Ālam news site made in the social media, the majority of the followers expressed their opinion that the American statements are just a bluff for the Iraqis and the misleading of the public view. Others believed that America, which strived to occupy Iraq and to take its goods and wealth will not just leave Iraq so easily and that the American statements are nothing more than a trick and misleading.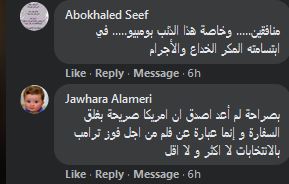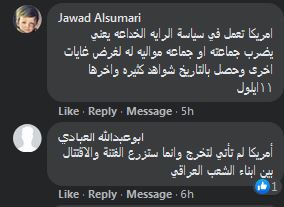 Some of the followers viewed that the American embassy is the headquarters of spying and it is full of heavy weapons and spying equipment. That it is America's eye, which spies on Iraq and that it is impossible that America would shut its eye and leave Iraq without spying on it and spreading war and division.

---
هل ستغلق أمريكا سفارتها تمهيداً لخروجها الكامل من العراق؟
الإثنين ٢٨ سبتمبر ٢٠٢٠ – ٠٢:٠٨ بتوقيت غرينتش
اثارت التصريحات الأخيرة لوزير الخارجية الأمريكية حول إغلاق السفارة الأمريكية في بغداد ضجة في مواقع التواصل الاجتماعي بين من يرى جدية الموقف الاميركي ومن يعتبره خداعا وتصريحات دعائية
وفي استطلاع للراي اجرته قناة العالم الاخبارية على منصات التواصل الاجتماعي عبر اكثرية المتابعون عن اعتقادهم ان التصريحات الاميركية هي لخداع العراقيين وتضليل الراي العام فيما راى البعض الاخر ان امريكا التي لطالما سعت لاحتلال العراق ونهب خيراته وثرواته لن تخرج منه بهذه السهولة وان التصريحات الاميركية ليست سوى خديعة ومماطلة
فيما راى بعض المتابعين ان السفارة الاميركية هي وكر للتجسس وانها ممتلئة بالاسلحة الثقيلة واجخزة التجسس وانها عين اميركا التي تتجسس بها على العراق وانه من المحال ان تغلق اميركا عينها وتترك العراق دون ان تتجسس عليه وتزرع الفتن والحروب
كذلك راى البعض ان خروج امريكا من العراق امر محتوم وانه مسالة وقت لا اكثر معتبرين الوجود الاميركي في العراق في اخر ايامه وضعفه وان الاحتلال يلفظ انفغاسه الاخيرة قبل ان يخرج مهزوما مندحرا
---