https://www.almayadeen.net/news/politics/إيران-تطرد-دبلوماسيين-غربيين-وتنشر-فيديو-لنشاطهم-التجسسي
Source: al-Mayadeen net                     6 July 22:34
The Iranian official television announced the explosion of Western diplomats accused of thanking soil samples from various places.
The Iranian official television on Wednesday confirmed the expulsion of Western diplomats accused of taking soil samples from various places in the city he was apprehended for taking soil samples. Amongst these was the British Deputy Ambassador.
The Iranian Fars News Agency said that the authorities "held off a number of western diplomats and their families and compatriots, and eventually expelled them for reasons of spying on closed military sites.
The agency cited an intelligence report from the Iranian Revolutionary Guards saying that "amongst those who got hold off were the British Deputy Ambassador, the husband of the Cultural Attaché of the Austrian Embassy, and university professors who came to the country on a scientific exchange basis".
It mentioned that "the charges raised against the personnel, who were held off are taking soil samples from prohibited and military sites in the region of Dāmġān in the Šahdād desert in the northern and central part of the country, coinciding with Iranian missiles tests, but also taking pictures of sensitive and prohibited areas in the capital Tehran".
The agency confirmed that the intelligence section of the Revolutionary Guards monitored and photographed "the apprehended personnel with a drone while they were taking soil samples from the Iranian soil and exploring it, but also while communicating abroad via the phone".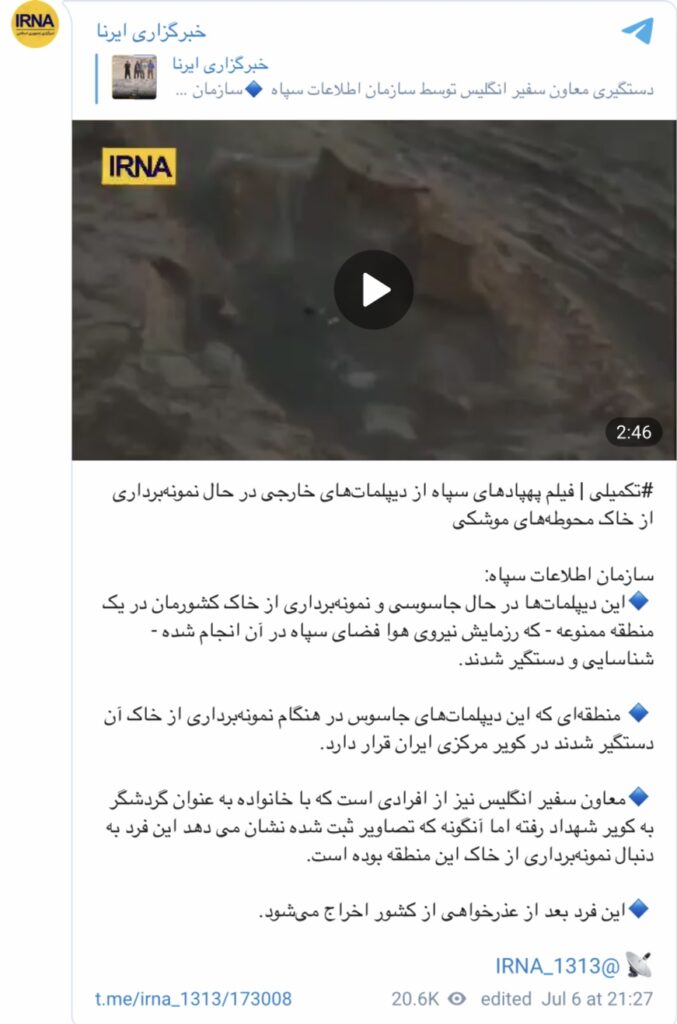 The Revolutionary Guards mentioned in a report that "the conduct of those held off is an attempt by the Zionist Entity to gather information and an attempt to reopen the Iran folder at the International Atomic Energy Agency about the military aspects of the Iranian nuclear program".
The report of the International Atomic Energy Agency was published at the beginning of last month and it claimed that Iran "is close to the amount of uranium needed for producing a nuclear bomb". It also talked about "the lack of sufficient clarification by the Iranian side about the traces of nuclear particles that were traced in 3 [previously] unannounced sites that witnessed such activities. These are Marīvān, Rāmīn and Tūrkūzābād".
The relations between Tehran, the Atomic Agency, and the negotiations with the Western parties witnessed turmoil following the latest report of the agency. Iran accused the agency of politicizing its report criticizing the visit of its president to "Israel". Iran viewed that this visit shows the politicized nature of the reports of the agency and affects its "neutrality".
Pic: Iran expels Western diplomats… and publishes a video about their spying activities.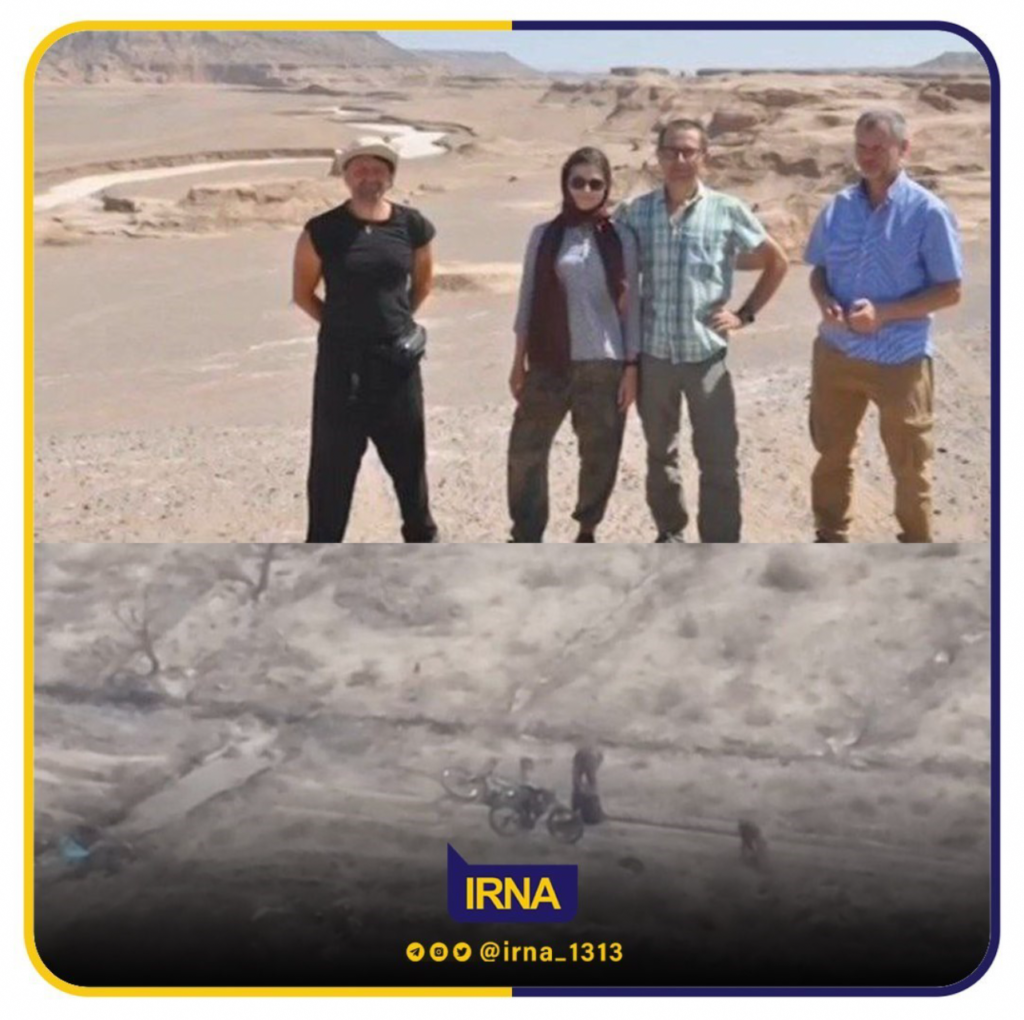 ---
إيران تطرد دبلوماسيين غربيين.. وتنشر فيديو لنشاطهم التجسسي
المصدر: الميادين نت           6 تموز 22:34
التلفزيون الرسمي الإيراني يعلن طرد دبلوماسيين غربيين متهمين بأخذ عينات من التربة من أماكن مختلفة
أكد التلفزيون الرسمي الإيراني،الأربعاء، طرد دبلوماسيين غربيين متهمين بأخذ عينات من التربة من أماكن مختلفة، من بينهم مساعد السفير البريطاني، من المدينة، حيث تم رصده  يأخذ عينة من التربة 
وقالت وكالة فارس الإيرانية، إنّ السلطات "قامت بتوقيف عدد من الدبلوماسيين الغربيين وعائلاتهم ورعايا أجانب وطردهم، بسبب التجسس على مواقع عسكرية محظورة
وقالت الوكالة، نقلاً عن تقرير لاستخبارات حرس الثورة الإيراني، إنه "من بين الموقوفين معاون السفير البريطاني، وزوج الملحقة الثقافية في السفارة النمساوية، وأساتذة جامعيون جاؤوا للبلاد في إطار التبادل العلمي
وذكرت أنّ "التهم الموجهة للأشخاص الذين تمّ توقيفهم هي أخذ عينات من التربة في أماكن ممنوعة وعسكرية في منطقة دامغان وفي صحراء شهداد شمال ووسط البلاد، تزامناً مع تجارب صاروخية إيرانية، والتقاط صور من أماكن خاصة وممنوعة في العاصمة طهران
وأكدت الوكالة أنّ استخبارات حرس الثورة رصدت وصوّرت "الموقوفين بالطائرات المسيّرة أثناء قيامهم بأخذ عينات من التربة الإيرانية وكشفها، وكذلك تواصلهم عبر الهاتف مع الخارج
وذكر حرس الثورة في التقرير أنّ "تصرّفات الموقوفين محاولة من قبل الكيان الصهيوني لجمع المعلومات، والسعي لإعادة فتح ملف إيران في الوكالة الدولية للطاقة الذرية، حول الأبعاد العسكرية للبرنامج النووي الإيراني
وكان تقرير للوكالة الدولية للطاقة الذرية نشر مطلع الشهر الفائت، زعم أنّ إيران "قريبة من كمية اليورانيوم التي تكفي لصنع قنبلة ذرية"، وتحدّث عن "غياب توضيحات وافية من الجانب الإيراني بشأن آثار لمواد نووية تمّ العثور عليها في 3 مواقع لم تصرّح بأنّها شهدت أنشطة كهذه، هي مريوان ورامين وتورقوزآباد
وشهدت العلاقة بين طهران والوكالة الذرية والمفاوضات مع الأطراف الغربية توتراً على خلفية تقرير الوكالة الأخير، واتهمت إيران الوكالة بتسييس تقاريرها منتقدة زيارة رئيسها إلى "إسرائيل"، ورأت إيران أن هذه الزيارة تُظهِر تسييساً في قرارات الوكالة وتؤثّر في "حياديتها
---