https://www.alalamtv.net/news/4920606/رسالة-شفوية-من-أمير-الكويت-الى-أمير-قطر
11 May 2020, Monday, 06:17 Greenwich time
The Emir of Qatar Sheikh "Tamīm ibn Ḥamad Āl Tānī" has received Sunday night a message from his Kuwaiti colleague, Sheikh Ṣabāḥ al-Aḥmad al-Ğābir aṣ-Ṣabāḥ.
Al-'Ālam – Qatar
The official Qatari news agency "KANA" mentioned that "Kuwaiti Foreign Minister Aḥmad Naṣir al-Muḥammad aṣ-Ṣabāḥ has delivered a message during his reception at the Qatari Emir in his office, at the al-Baḥr Palace on Sunday night".
The agency clarified that the message "apart from a number of matters with mutual interest, touches the brotherly and firm relations between the two countries and the horizons of reinforcing and improving them".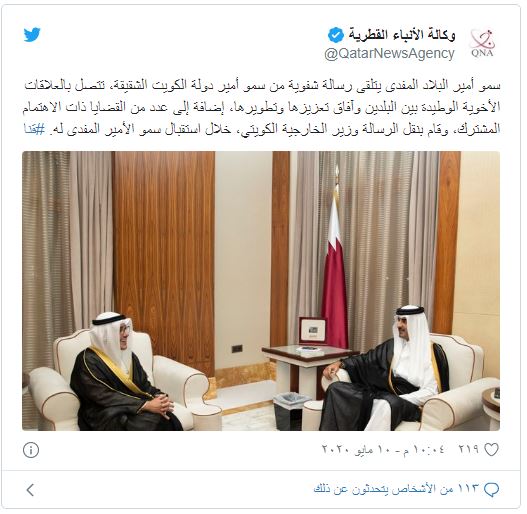 The visit by the Kuwaiti minister comes on the side of the worst Gulf crisis, since the foundation of the GCC in 1981, and at a time, when the region and the whole world suffers from the present spread of the Corona Virus.
---
رسالة شفوية من أمير الكويت الى أمير قطر
الإثنين ١١ مايو ٢٠٢٠ – ٠٦:١٧ بتوقيت غرينتش
تلقى أمير قطر الشيخ "تميم بن حمد آل ثاني"، مساء الأحد، رسالة من نظيره الكويتي، الشيخ صباح الأحمد الجابر الصباح
وذكرت الوكالة القطرية الرسمية للأنباء "قنا" أن "وزير الخارجية الكويتي أحمد ناصر المحمد الصباح قام بنقل الرسالة، خلال استقبال أمير قطر له، في مكتبه بقصر البحر مساء الأحد
وأوضحت الوكالة، أن الرسالة "تتصل بالعلاقات الأخوية الوطيدة بين البلدين وآفاق تعزيزها وتطويرها، إضافة إلى عدد من القضايا ذات الاهتمام المشترك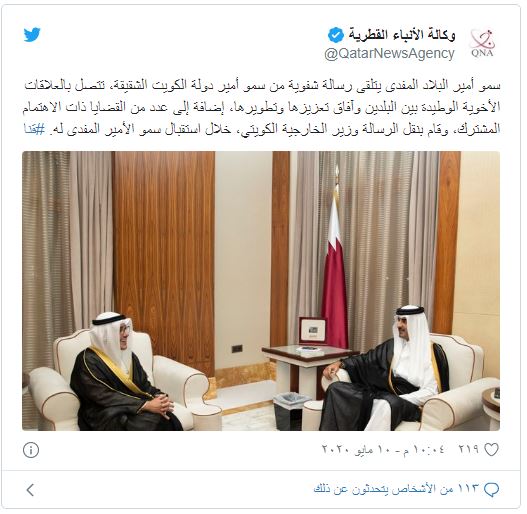 وتأتي زيارة الوزير الكويتي في ظل استمرار أسوأ أزمة خليجية منذ تأسيس مجلس التعاون، عام 1981، وفي وقت تعاني فيه المنطقة والعالم أجمع من أزمة تفشي فيروس كورونا المستجد
---