https://www.alalamtv.net/news/4856261/بعد-مكالمة-بن-زايد-مع-الأسد–خطوة-اماراتية-غير-مسبوقة-تجاه-سوريا
11 April 2020, Saturday, 09:41 Greenwich time
Yesterday, Friday Emirati State Minister for Foreign Affairs Anwār Qarqāš called for assistance to Syria to confront the global health crisis caused by the present Corona Virus, and for a ceasefire.
Al-'Ālam – Syria
In a tweet on "Twitter", Qarqāš said that he is discussing the matter of urgency for a ceasefire in Syria with the UN Special Envoy Gierd Pedersen.
The Emirati Minister wrote: "I discussed with Gierd Pedersen the necessity for a ceasefire in Syria and to help it in this global health crisis. The appreciation by the UN for the support Sheikh Muḥammad ibn Zāyid gave to Syria combatting the Corona crisis also pleased me, confirming our support for the organization in its lifesaving tasks".
Qarqāš has already praised the phone call by Abū Zabī Crown Prince Sheikh Muḥammad ibn Zāyid Āl Nahyān last month to Syrian President Baššār al-Asad.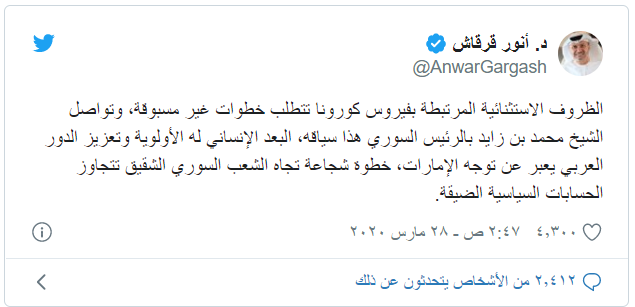 ---
بعد مكالمة بن زايد مع الأسد.. خطوة اماراتية غير مسبوقة تجاه سوريا
السبت ١١ أبريل ٢٠٢٠ – ٠٩:٤١ بتوقيت غرينتش
دعا وزير الدولة للشؤون الخارجية الإماراتي، أنور قرقاش، يوم امس الجمعة، إلى مساعدة سوريا على مواجهة الأزمة الصحية العالمية التي سببها فيروس كورونا المستجد، ووقف إطلاق النار
وقال قرقاش في تغريدة على "تويتر"، إنه ناقش مسألة ضرورة وقف إطلاق النار في سوريا مع مبعوث الأمم المتحدة الخاص بسوريا، غير بيدرسن
وكتب الوزير الإماراتي: "ناقشت مع GeirO Pedersen ضرورة وقف إطلاق النار في سوريا ومساعدتها في هذه الأزمة الصحية العالمية، كما أسعدني تقدير الأمم المتحدة للدعم الذي قدمه الشيخ محمد بن زايد لسوريا في مكافحة أزمة كورونا، مؤكدا دعمنا للمنظمة في مهامها الحيوية
وكان قرقاش قد أشاد باتصال ولي عهد أبوظبي، الشيخ محمد بن زايد آل نهيان، بالرئيس السوري، بشار الأسد الشهر الماضي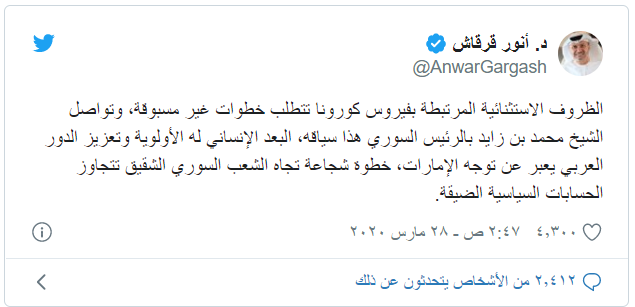 ---