https://www.alalamtv.net/news/4817906/معرض-اكسبو–ضربة-جديدة-تلقاها-بن-زايد
25 March 2020, Wednesday, 12:37 Greenwich time
The Bidūn Ẓill [without shadow] account, which is held as an "Emirati officer", posted a tweet, in which a new blow is revealed faced by Abū Zabī Crown Prince Muḥammad ibn Zāyid.
Al-'Ālam – Emirates
The account, which is a said to be a security officer working in the Intelligence Service, said that there are 37 international companies until today, which officially informed the Emirates that they cancelled their participation in the exhibition, which Dubai was looking forward to it for years. That is the 2020 International Expo, which Dubai was counting on to boost its devastated economy and save it from bankruptcy.
The security officer, who is tweeting under the Bidūn Ẓill [without shadow] name, in his tweet letting a hornet loose as his habit to cause controversy said the following: "37 international participant companies in the Dubai Expo have sent official notice of their cancel of participation in the exhibition".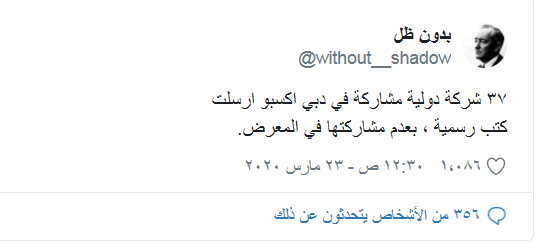 It was expected that the 2020 Dubai Expo will attract more than 25 million visitors during its time, and 70% of the visitors will come from outside of the United Arab Emirates.
That would require more than 24 thousand hotel rooms to face the wave for the exhibition meeting the demand. The 2020 International Expo exhibition will be held in Dubai, which was organized to the be between 20 October and 10 April, starting at the national celebration of the 50th anniversary of the state of the Emirates. The 2020 Dubai Expo will be a platform present the vision for the sustainable future for the next few decades.
All these preparations and the hope to raise the economy of Dubai and the Emirates, and name of Dubai internationally once again has gone and only scattered dust followed. The activists posted to the tweet of the Emirati officer various comments. Once activist commented the following: "who is so crazy to participate, while the Emirati government itself is supposed to cancel the expo and change its name to (Iflasū [Go bankrupt]) to protect the Emirates from those who are coming".
---
معرض اكسبو.. ضربة جديدة تلقاها بن زايد
الأربعاء ٢٥ مارس ٢٠٢٠ – ١٢:٣٧ بتوقيت غرينتش
نشر حساب بدون ظل الذي يدعي انه "ضابط إماراتي" تغريدة كشف فيها عن ضربة جديدة تلقاها ولي عهد أبوظبي محمد بن زايد
وقال الحساب الذي يقول انه ضابط امن يعمل في جهاز المخابرات أن هناك 37 شركة دولية حتى اليوم بعثت خطابات رسمية للإمارات بإلغاء مشاركتها بالمعرض الذي إنتظرته دبي لسنوات وهو إكسبو 2020 الدولي، والذي إعتمدت عليه دبي على رفع إقتصادها المدمر وإنقاذها من الإفلاس
وقال الضابط الأمني الذي يغرد تحت اسم بدون ظل، في تغريدة لسعها الدبور كعادته في إثارة الفتن ما نصه: "٣٧ شركة دولية مشاركة في دبي اكسبو ارسلت كتب رسمية ، بعدم مشاركتها في المعرض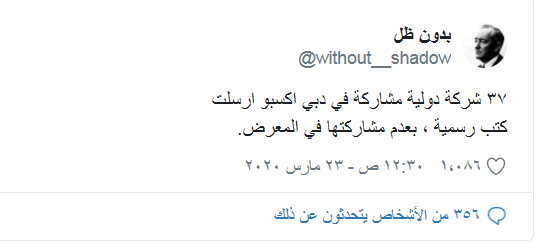 وكان من المتوقع أن يجذب معرض اكسبو 2020 دبي أكثر من 25 مليون زيارة خلال فترة انعقاده، وسيأتي 70 بالمائة من الزوار من خارج دولة الإمارات العربية المتحدة
وسيتطلب ذلك توفير أكثر من أربع وعشرين ألف غرفة فندقية، وذلك لسد الفجوة في العرض مقابل الطلب. وسيعطي معرض اكسبو 2020 الدولي في دبي، الذي يُنظم من 20 أكتوبر إلى 10 أبريل، الانطلاقة للاحتفالات بالعيد الوطني الخمسين لدولة الإمارات، وسيشكل معرض اكسبو 2020 دبي منصة لوضع رؤية مستقبلية مستدامة لعقود قادمة
وذهب كل هذا التحضير و الامل برفع إقتصاد دبي و الإمارات، ورفع اسم دبي عالميا من جديد، ذهب كله هباء منثورا، وعلق النشطاء على تغريدة الضابط الإماراتي بتعليقات مختلفة، حيث قال ناشط ما نصه: "من المجنون الذي سوف يشارك يفترض بالحكومة الإمارتية نفسها الأعتذار عن إقامة إكسبو وإستبدل العبارة (إفلسو ) حفاظاً على الإمارات من القادمين
---