With all the general perceptions about it would anyone believe that the Arab world has a Nobel Peace Prize laureate, who never held any political, or administrative office? More so a woman? Who in fact got her recognition for being "the mother of the revolution" in her own country?
            With the same generalization about the region in mind would anyone believe that the new Oversight Board of Facebook, which so far has only 20 members has a Muslim woman member? From Yemen, about whom descriptions struggle to classify her as more of an activist, a journalist, or writer?
            And with all the bad experiences about the relations of the West with the Muslim world there is a Muslim woman rights activist, who became a frequent guest to such nobilities like Hillary Clinton, or Leonardo DiCaprio? Not just any woman, but a lady with quite strict views on Islam, Islamic traditions, and values in relations to the Western world. Knowing the tradition of Western approaches towards the emancipation of women, and especially Muslim women, wouldn't a lady adamant about her scarf be a puzzling choice to be the face of such "liberalization" attempts?
            And would anyone believe that all these attributes describe the very same person? A freedom-loving Yemeni Muslim woman with a humble background, who rose to liberate her county, win a Nobel Peace Prize, and in time became one of the most celebrated women rights activist in the West, while still holding on to her scarf and the supremacy of her Islamic traditions. A person, whose connections to some of the most scorned government in the world for their breaches of democracy and human rights, like Turkey, Yemen, or Qatar, never disturbed her rise as a celebrity.
            She is Tawakkul Karmān. A name poorly known in the Arabic world, but became a celebrity in Turkey and in the West for her "intellectual" work. This surprising lady and her career is in fact not a unique case, but along with Lebanese born Amal Clooney, or Somali born Dutch-American Āyān Ḥirṣī 'Alī, is much like a phenomenon, though with a somewhat unique spin. The details of this celebrated and raising lady's humble story perfectly reflects the nature of the Turkish-Qatari power in the Middle East and penetration of the Muslim Brotherhood even to the Western social discourse. But even more so, it tells about the Western social and political elite to just what sort of ideological currents it lend support to.
            With the same name appearing in the last ten years over and over on seemingly completely independent stories the question is really interesting: Who is Tawakkul Karmān? And who stands behind her, to help her achieve this more than an impressive career?
Some humble beginnings.
            Tawakkul Karmān was born in 1979 in the southern Yemeni province of Ta'izz and grew up in an outskirts of the provincial capital. Ta'izz is not only the third biggest city of Yemen, but the second biggest one in the south, and possibly the biggest commercial centers of Yemen. Her family moved to Sana'a and that is where Tawakkul studied science and later political science at the University of Sana'a, that being her only higher education. Around 2005 she founded a human and women rights groups with fellow female journalists called Women Journalists Without Chains (WJWC), or by its Arabic name Bilā Quyūd (without chains), which advocated women's rights, but also democracy in a notoriously repressive state system. Along with that, practically at the same time she started organizing protests and sit-ins in Sana'a against the government, mostly condemning the government's policies on the press, but also promoting a more active role for women in the society. By her accounts she regularly received threats by government officials and faced repression, but she continued her active political role, until the so-called "Arab Spring" started in 2010.
            The protests in Tunisia and later in Egypt gave a new impetus to her activities in Yemen, and as these suddenly appeared in the spotlight she became the symbol of the "Arab Spring" in Yemen. That was mostly due to the reports of al-Jazeera, and soon she managed to present articles to such highly regarded papers as The Guardian. Karmān highly supported the so-called pro-democracy changes in the "Arab Spring" in Yemen – where she became called as the Mother of the Yemeni Revolution – Egypt and other countries. Soon, however, as Yemen witnessed a huge turmoil and the state started to fall apart, Karmān faced ever biggest problems, but also by growing fame she enlarged her activities and left Yemen to Turkey. She still spends most of her time in Turkey but became a household name for the Western press and political elite. And with her move to Istanbul new horizons, a whole new life opened up to her.
            Most of her activities between 2005 and 2010 were scarcely known outside of Yemen until 2010-11, when al-Jazeera – and soon the Western press following it – gave lengthily accounts of her deeds, mostly in a fashion that she is not a random person out of the blue, but an already established pro-democracy activist with a substantial background. She was always portrayed as an ordinary, but very brave Yemeni woman, the symbol that Arab woman strive for freedom and a more active role, which can be achieved. Of course if she receives support like Karmān did.
            However, it is less covered or explained that she is hardly the "ordinary brave Yemeni", as she is often portrayed. She was in fact the oldest daughter of 'Abd as-Salām Karmān, otherwise known as Sheik Karmān, who passed away in 2016. 'Abd as-Salām Karmān was a lawyer and active Islamist organizer in the '80, meaning in the South Yemeni state, which at that time was a strictly Socialist country. After the unification, he worked as Minister of Legal Affairs in the unity government of President 'Alī 'Abd Allah Ṣāliḥ. Thought this as unusually acknowledged, it is mostly downplayed as he later resigned in this post, and it is true that 'Alī 'Abd Allah Ṣāliḥ made several major government reshuffles during his long reign, so one governmental post does not necessarily mean a lot. However, 'Abd as-Salām Karmān was an MP in the Yemeni Parliament for several terms, and he was the first Secretary-General of the Yemeni Consultative Assembly (Mağlis aš-Šūra), the upper house of the Yemeni Parliament only formed in 1997. At the same time he was the president of the Parliament's Codification Committee for Islamic Jurisprudence. Meaning that 'Abd as-Salām Karmān belonged to the inner circles of President Ṣāliḥ for quite some time, and with a noticeable Sunni Islamist background. More than that, he was one of the founding members of Ṣāliḥ's party, the General People's Congress (al-Mu'tamar aš-Ša'bī al-'Ām).
            And it should be noted that at that time, right after the unification a practical four year-long "civil war" broke out between the former northern and southern part, in which the north, Sana'a won. The result was that most of the southern political elite either perished, or left the country. Those who stayed, however, like the former southern general and current president Hādī, or Karmān became invaluable for Ṣāliḥ to maintain stability. By putting front these figures – Hādī became Ṣāliḥ's longest-serving Vice President and he was representing 'Adan – the appearance of a true unification was given, covering the fact of the northern takeover. That is why these figures like Karmān representing Ta'izz, were practically untouchables until they didn't move against the president. And if they did, like the al-Ḥūtī's, first a practical agreement was tried to be reached before the use of force. And that is exactly what we see with Tawakkul Karmān. In 2005 she was only 26. At that age were she an average middle class woman, she would hardly get the resources for strikes, and she would have disappeared. No authority would bother to threaten her in a country, which was famous for kidnappings and silencing journalists. Her father only a decade before – and hard to know for how long – was a very prominent member of the system then still stitching together the country, and the most probable reason why she was not hurt is because it was more beneficial to persuade her than to cause uproar for an influential family.
            This upper-class status shows in the fact that Tawakkul's siblings also grew to prominence, and not just in Yemen. Her brother Ṭāriq is usually mentioned as a famous poet. He was a promoted poet in the early 2000's – not long before her sister started her movement against the government – but by 2011 he was a notable businessman and an active political activist, who in 2014 pledged loyalty to Ṣāliḥ's party and is still a political activist. Only that he stayed in Yemen. The other brother, Muḥammad is rarely mentioned at all, but he was also a notable political figure and somewhat of a strongman, until he was kidnapped in Sana'a in 2017. Meaning years after the al-Ḥūtī and that the Saudi aggression started, in which the Karmān family in general took the side of Riyadh.
            But it is Tawakkul's sister, Ṣafā' (born in 1987) who is the second-biggest name in the family, and her role in Tawakkul's career can hardly be underestimated. Usually it is mentioned that Ṣafā' was a successful and influential investigative journalist, she got her MA law degree in Harvard and Oxford, both in the same year and thus being the first Yemeni citizen ever to achieve that. And also she works for al-Jazeera, doing mostly documentaries. In fact, and that is not even hidden, Ṣafā' was only 20, when in 2007 she got elected as Vice President of the Legal and Constitutional Committee of the Youth Šūra, an official youth advisory of the Yemeni Parliament's upper house. The very body where her father was the first Vice President. Two years later she got her BA in Sana'a University from Law and Šarī'a, so she studied Islamic jurisprudence, and in 20010 she moved to Qatar to work for al-Jazeera. Which was not particularly difficult for her, as she studied in one of Yemen's top elite schools, and for two years she worked as an English teacher. The simple comparison of her and her sister's, Tawakkul's English is a good indicator that the family prospered well in the '90s. While Tawakkul has a very limited grasp of English with a thick accent Ṣafā' English is smooth and very clear. Ṣafā' was Al-Jazeera's first-ever Yemeni correspondent mostly working in the Yemeni and Egyptian events of the "Arab Spring", which was probably not a too hard task for her with her sister being a major organizer, and she herself had the inner political knowledge via her family. She was the main responsible for Tawakkul's emergence as the symbol of the revolution.
            Ṣafā' made a career almost as great as her sister, mostly due to her contribution as an "investigative journalist" concentrating on Yemen, venting the anti-Iranian tune very favorable in the West, but also promoting the same themes as her sister. And she is also a regular guest in Western universities, round tables, etc. In 2018 only a few months apart got her two MAs in Harvard and Oxford as the first Yemeni ever. And in these she manifests the same peculiar Brotherhood mentality as her sister, sometimes talking about politics dressed as a modern Western businesswoman, but on other occasions talking about society and dressed as a very conservative, thought stylish Muslim woman.
            These pieces put together it is clear to see that Tawakkul Karmān is very far from being an ordinary Yemeni woman making a miracle. Much rather she is the oldest child of a very influential and privileged family, who played a political role, and managed to gain Western ties as well.
The Turkish connection.
            Tawakkul Karmān was the most quoted and interviewed Yemeni political activists in the Western press until the Yemeni government started to buckle, 'Alī 'Abd Allah Ṣāliḥ started to make the concession, mostly to that Brotherhood element which he used in the '90s, which had the GCC behind them, and to whom the Karmān family also belonged. When the settlement was reached and President Ṣāliḥ agreed to step down, allegedly the death threats multiplied against Tawakkul and her life came into danger. She couldn't wait out the result of the Yemeni transition, as in October 2012 she received a Turkish citizenship, handed over by none other than Ahmet Davutoğlu, Turkish Foreign Minister at the time.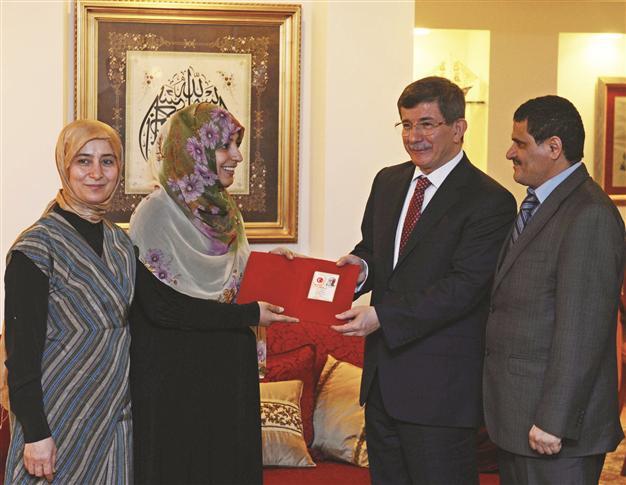 By then however, she was already a famous person, as in October 2011 she was awarded a Nobel Peace Prize, jointly with two Liberian ladies, both politicians. By her account not much later she had no prior knowledge that she was nominated, or elected and only heard it from the news, while she was organizing protests. It was a strange decision at the time, as Tawakkul was practically unknown in the Middle East, but that surely gave a huge push to the "Arab Spring" and the clear signal that the West likes what it sees. The Prize also cemented her reputation. Even now many descriptions struggle to categorize her, as she is not a lawyer, not an academic, nor really a journalist, and the activist is hardly a term that should entitle her for all her publicity. But she is a Nobel Peace Prize laureate!
            Upon receiving her Turkish citizenship she became well quoted and invited lecturer of many academic forums, but also interviewed in the West as a Yemeni expert, and as a Muslim feminist. And two friendships helped her in this progress. The first is a lady called Esra Albayraq, who along with her sister Sümeyye held many speeches about political Islam as women's role in it even in American forums.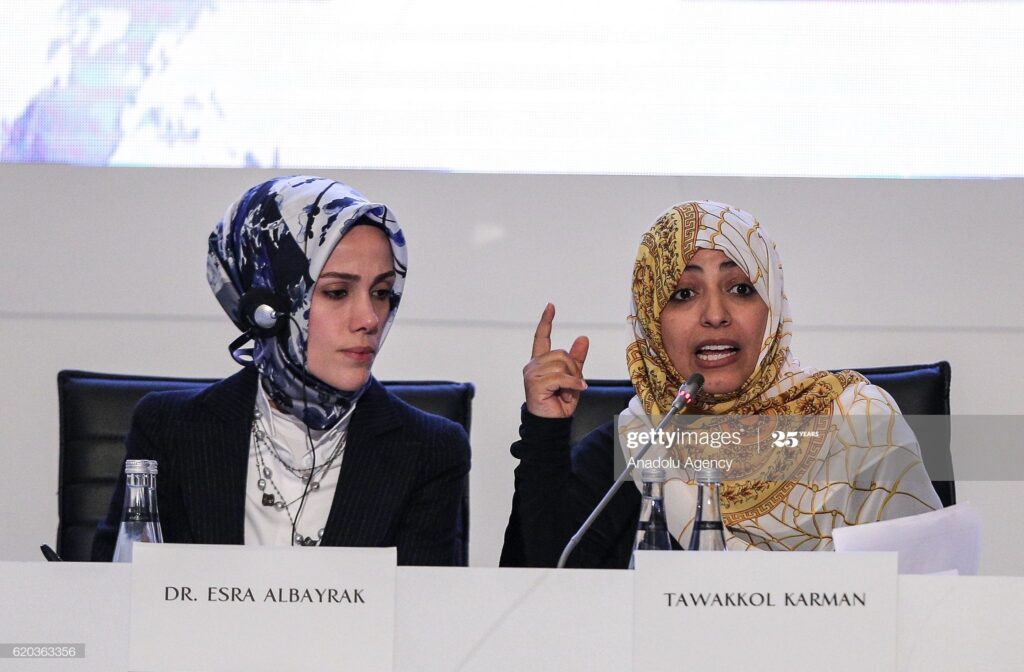 While the name Esra Albayrak is probably not too familiar, her maiden name explains more, as she is Esra Erdoğan, the younger daughter of President Erdoğan. The elder sister, Sümeyye is considered to be one of the strongest pillars behind her father, while Esra is important for her husband, Berat Albayrak. Albayrak made a solid business career before the marriage, and after that he became an MP, then Energy Minister, and since 2018 Minister or Finance and Treasury. In his very rapid career he sidelined most of the prominent AKP party members and became Erdoğan's most trusted right-hand man. He is alleged to have good connections and business relations with Jared Kushner, Trump's son-in-law. Both daughters, Esra and Sümeyye are very active socially and politically, solidifying the AKP's ideological background. They also have excellent Western connections, partially because both graduated from Indiana University. There is a very clearly and distinctly Brotherhood ideology wrapped in a more Westernized cover. Tawakkul is nothing different of the two sisters, intellectually may even be inferior, but a Nobel Prizes laureate was a huge asset for the AKP, while Karmān gained a new safe home, precious connections, and huge funds. So much in fact that by now she runs her own – naturally tax-free – foundation, the modestly named Tawakkol Karman Foundation.
Like a rocket to the stars.
            It is less known was it this way, on by her sister that she got to be introduced to the Qatari elite, but after 2013 she was very warmly received in Doha. She became a regular guest there, received by Emīr Tamīm, but also most trusted Palestinian advisor, 'Azmī Bišāra. He was the second most important friendship.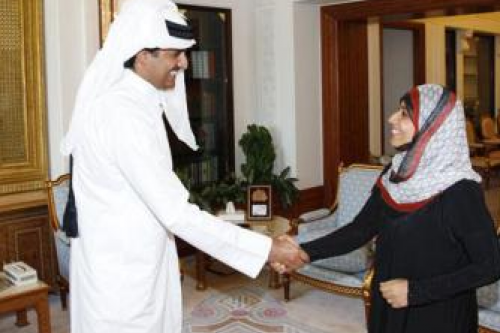 Upon this we can hardly be surprised that she was a regular guest in al-Jazeera, which though really promoted her, some English interviews really weren't for her credit. She clearly struggles to express herself in English, which makes it curious how could she become a columnist at Western papers.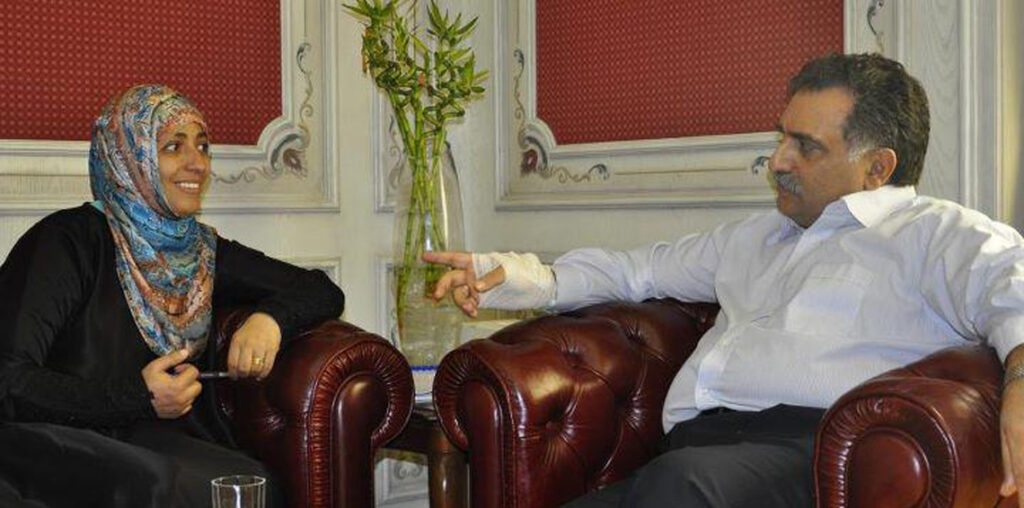 After the Nobel Prize and the regular political lectures Karmān became a regular guest for many Western celebrities, like Leonardo de Caprio.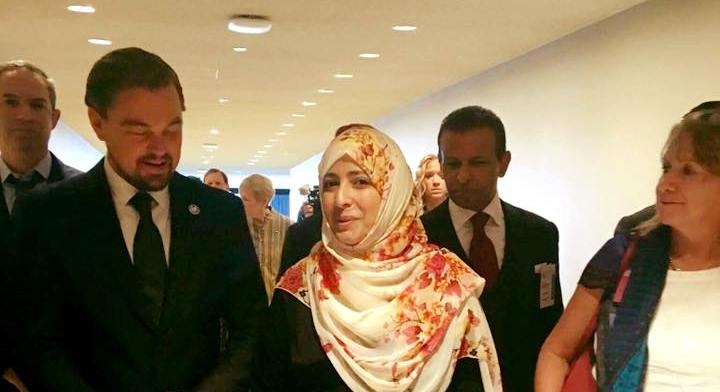 But also such politicians met with her as Hillary Clinton, which is a more than odd combination. Not only for Clinton's rather hostile stance on American foreign policy but also she was the most responsible for the American involvement in Yemen, Egypt, Libya, and Syria after 2011, with bloody consequences. Which she never regretted, as after the overthrow and death of al-Qaddāfī in Libya she famously said: "We came, we saw, he died!"
            Yet Tawakkul Karmān, the very lady who fought for democracy, who condemned violence in Yemen, and later in 2013 famously condemned the military coup in Egypt against President Mursī, had no problem meeting with Clinton.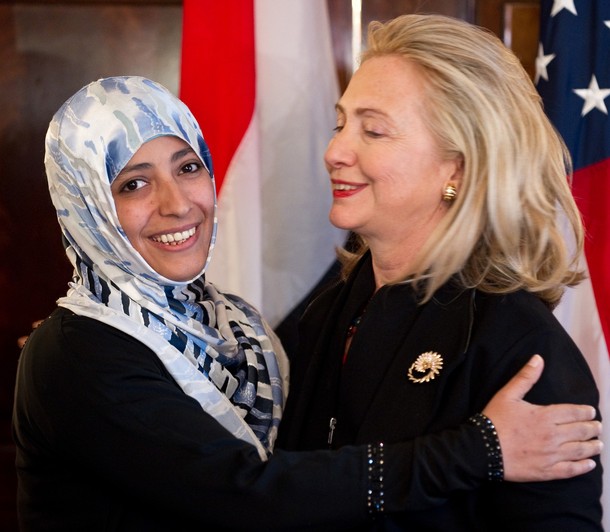 That ambivalence and lust for fame show more in her role in women's rights, but her political behavior is just as controversial. Allegedly she created the Yemeni revolution, which she left after the GCC settlement and practical takeover. She got involved again after the al-Ḥūtī takeover condemning it, but after the Saudi involvement, she not only retired again but even became a supporter of President Hādī, the figurehead of the Gulf interference.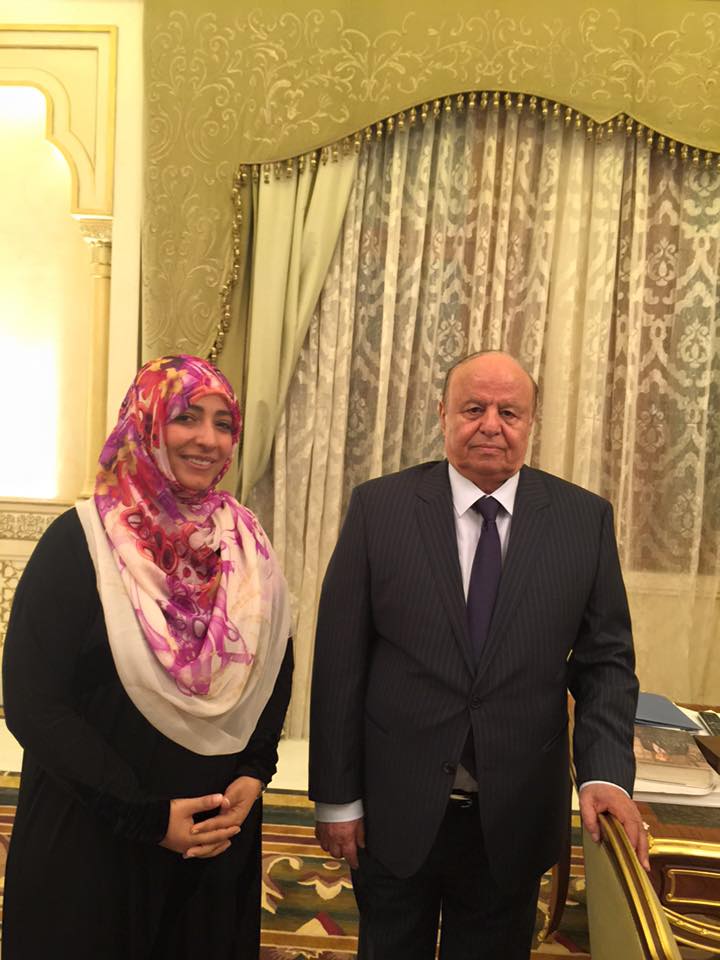 She was a great supporter of the Muslim Brotherhood government of Mursī in Egypt and was a very vocal enemy of the coup overthrowing it in 2013, but she rarely cared about the transgressions of the Mursī era or its support of terrorist elements in Syria. She was in fact such a fervent fan of this government that after the coup she became a public figurehead of the ar-Rābī'a al-'Adawiyya movement. After the coup against Mursī, his supporters organized a massive protest around the ar-Rābī'a al-'Adawiyya mosque and neighborhood in Cairo, which lead to an armed uprising and a brutal massacre. Some 300 to 2000 people died, which the Egyptian government held as an Islamic terrorist attack against the state, but for the Brotherhood became a symbol of martyrdom and a movement was launched from Turkey with the famous gesture showing four fingers.[1] Tawakkul Karmān gave her name to this very campaign.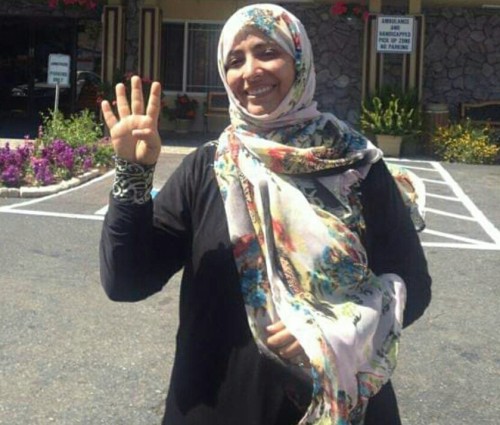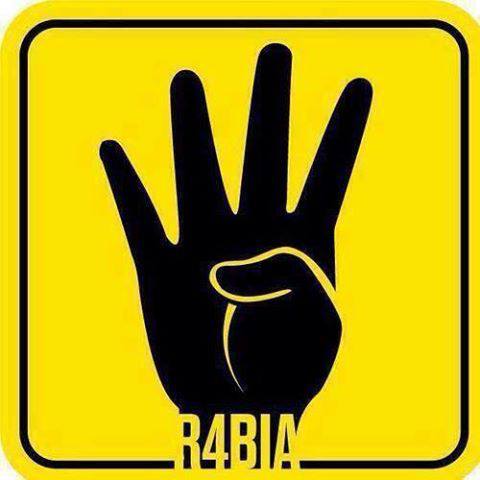 While indeed the Egyptian coup has its deep legal problems these standings are all very controversial. Not one by one, but more as a general picture, as if she chooses the time and place to uphold values, but conveniently being too busy to defend these at other times. And strangely enough, these controversial standings never stopped her career in the West as a democracy and peace activist. Quite the contrary!
            Her political role might be very controversial, but it is her social activism, which makes her famous today. Her views on women's rights and social inclusion are not any less controversial, and these are the themes we will look into next week.
[1] The name of the mosque goes back to a famous mystic by the same name, in which ar-Rābī'a means the fourth. The four fingers refer to that.
---