https://www.alalamtv.net/news/4988036/اللجنة-الصهيونية-الأمريكية-تعلن-مشاركة-قرقاش-في-مؤتمرها-السنوي
13 June 2020, Saturday, 05:46 Greenwich time
The American Zionist Committee [American Jewish Committee] (AJC) said the Emirati state minister for foreign affairs Anwar Qarqāš will participate in the next session of its annual conferences.
Al-'Ālam – Emirates
The organization, which aims to strengthen the existence of "Israel" and the "Jewish people" mentioned in a tweet posted in its official account on Twitter that: "It is our honor to welcome the Emirati state minister for foreign affairs dr. Anwar Qarqāš on the AJC virtual conference of 2020".
It explained that Qarqāš during the conference will talk about the huge efforts of the Emirates to strengthen the regional stability and cooperation between the religious sects in the "open historic debate".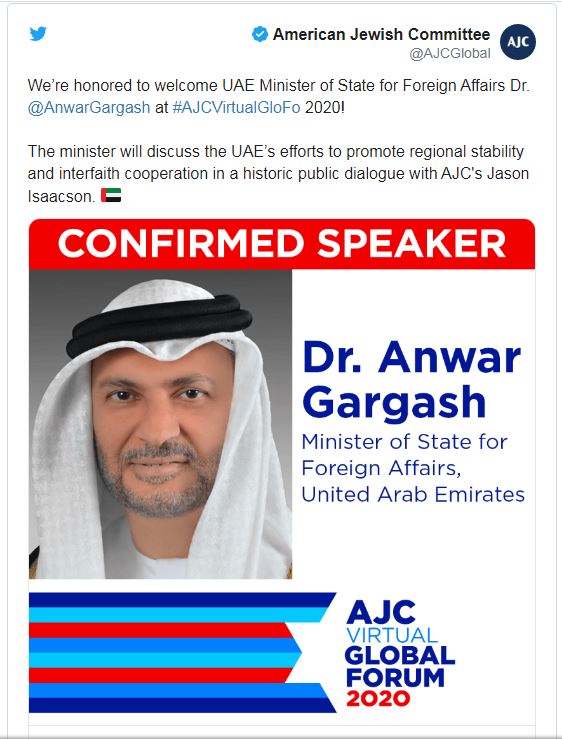 According to what the organization had posted previously: "in the conference German Chancellor Angela Merkel, Secretary-General of the Islamic World League and Saudi Justice Minister Muḥammad al-'Aysī and Greek Prime Minister Kyriakos Mitsodakis will participate.
The "Israel HaYoum" Jewish newspaper said that Qarqāš "is creating history" with his participation in the conference, which starts its work next Sunday and will continue until next Thursday, confirming that the minister of the Israeli army Benny Gantz will also be among the participants.
The newspaper pointed out that the conference will deal with several suggested matters on the Jewish agenda. Amongst these are phenomena of the growing antisemitism, the security of "Israel, the so-called American peace plan, and the Jewish role in the American elections.
It is a curious sign that the Emirati ambassador in Washington Yusaf al-'Atība said in an article posted in Jewish "Yediout Aharonot" that his country views in the Israeli occupation "a not recurring opportunity", confirming that the normalization is the only alternative to prevent further incorporation of the Palestinian lands, according to his expression.
On his own term director of Dubai police "Ḍāḥī Halfān" in a number of tweets causing widespread criticism called for the use of the term "Israeli friend" and said: "Instead of the Israeli enemy… use the Israeli friend… what's the problem", according to his expression.
In a series of tweets, Halfān talks about the necessity of a Gulf reconciliation with "Israel"!
He said that the lack of recognition for "Israel" in a matter, which makes no sense, adding that "Israel is country standing on the list of science, knowledge, flourishing and confidential connections to the countries of the developed world. Who are you, who don't recognize a state in the place of scientific Israel? Are the Jews from Hawaii?", according to his words.
---
اللجنة الصهيونية الأمريكية تعلن مشاركة قرقاش في مؤتمرها السنوي
السبت ١٣ يونيو ٢٠٢٠ – ٠٥:٤٦ بتوقيت غرينتش
قالت "اللجنة الصهيونية الأمريكية (AJC) إن وزير الدولة الإماراتي للشؤون الخارجية، أنور قرقاش، سيشارك في الدورة القادمة من مؤتمرها السنوي
وذكرت المنظمة المعنية بتعزيز وجود "إسرائيل" و"الشعب اليهودي"، في تغريدة نشرتها على حسابها الرسمي في "تويتر": "يشرفنا أن نرحب بوزير الدولة الإماراتي للشؤون الخارجية الدكتور أنور قرقاش في قمة AJC الافتراضية عام 2020
وأوضحت أن قرقاش سيناقش خلال المؤتمر جهود الإمارات الرامية إلى تعزيز الاستقرار الإقليمي والتعاون بين الطوائف في "حوار تاريخي مفتوح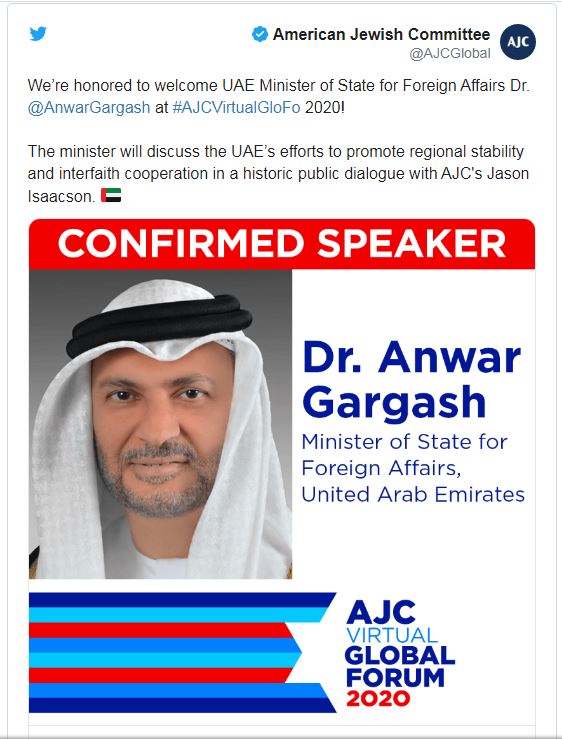 ووفقاً لما نشرته المنظمة سابقاً؛ ستشارك في المؤتمر المستشارة الألمانية أنجيلا ميركل، والأمين العام لرابطة العالم الإسلامي، وزير العدل السعودي السابق، محمد العيسى، ورئيس الوزراء اليوناني كيرياكوس ميتسوتاكيس
وقالت صحيفة "يسرائيل هيوم" العبرية إن قرقاش "يصنع التاريخ"بمشاركته في المؤتمر الذي يبدأ أعماله، الأحد المقبل، ويستمر حتى الخميس، مؤكداً أن وزير الجيش الإسرائيلي بيني غانتس سيكون أيضاً بين المشاركين
وأشارت الصحيفة إلى أن المؤتمر يتناول قضايا مطروحة على الأجندة اليهودية؛ ومنها ظاهرة معاداة السامية الآخذة بالاتساع، وأمن "إسرائيل"، وما تسمى الخطة الأمريكية للسلام، ودور اليهود في الانتخابات الأمريكية
تجدر الإشارة إلى أن السفير الإماراتي لدى واشنطن، يوسف العتيبة، قال في مقال نشرته صحيفة "يديعوت أحرونوت" العبرية إن بلاده ترى في الاحتلال الإسرائيلي "فرصة لا عدواً"، مؤكداً أن التطبيع هو البديل الوحيد لمنع ضم مزيد من الأراضي الفلسطينية، حسب تعبيره
من جانبه، دعا قائد شرطة دبي "ضاحي خلفان" في سلسلة تغريدات مطبعة أثارت انتقادات واسعة، إلى استخدام مصطلح "الصديق الإسرائيلي" بدل "العدو الإسرائيلي". وقال: "استخدموا بدل العدو الاسرائيلي.. الصديق الإسرائيلي…شو المشكلة"حسب تعبيره
وفي سلسلة تغريدات تحدث خلفان عن ضرورة المصالحة الخليجية مع "إسرائيل"
وقال إن عدم الاعتراف بـ"إسرائيل" حاجة لا معنى لها، مضيفا "إسرائيل دولة قائمة على العلم والمعرفة والازدهار والروابط الوثيقة بكل دول العالم المتقدم، من أنتم يا من لا تعترفون بدولة في مكانة إسرائيل العلمية، هل اليهود أصلا من هاواي" على حد تعبيره
---