http://www.almayadeen.net/news/politics/1378787/الجيش-السوري-يسيطر-على-مدينة-سراقب-شرق-إدلب                            
February 06, 2020, 15:18
Al-Mayadeen net
The Syrian Army enters Sarāqib and starts to comb it, defuses mines and explosive devices from what remains from the armed groups.
The Syrian Army took Sarāqib under control, the third biggest city it liberated after Ma'rat an-Nu'mān and Hān aš-Šayhūn in rural Idlib.
The Syrian Army reported that it started to comb over the city and defuse the mines and the explosive devices there.
The Syrian Army's control over the city came after it surrounded it from 3 sides and started to siege it from the last remaining side from the north, taking hold of the towns of Āfis, aṣ-Ṣāliḥiyya and Ma'rat 'Alayā.
Sources of al-Mayadeen net reported that the Syrian Army precise sweeping operations to the neighborhoods of the city, in which the armed groups planted a huge number of mines and explosive devices. Apart from that there are informations that a group of the armed militias fell under siege in one of the neighborhoods, where they are engaged whether they surrender themselves, or will be dealt with if they refused.
Sarāqib represents a meeting point between the Aleppo-Damascus and the Aleppo-Latakia highways, as it is a connection point for the provinces of Aleppo and Idlib to Latakia to the west.
On an other matter, some armed groups, most prominent amongst them the "Hay'at Taḥrīr aš-Šām" and the "Anṣār at-Tawḥīd", both belonging to the "Organization of al-Qā'ida" reported a battle against the Syrian Army in the town of Nayrab to the west of the city of Sarāqib, which lies from the city of Idlib to some 9 kilometers away.
Sources of the al-Mayadeen net pointed out that the armed groups transformed the agricultural areas around the city of Idlib, all the way to front lines on the Narragansett axis defense positions, tranches and mortar positions.
The coordinations center of the armed groups announced that the artillery of the Turkish army supports the armed militias to pound the positions of the Syrian Army on the Axis of the town of Nayrab. Here no Syrian military sources responded about the real developments on this front.
Front sources confirmed that the armed militias via their cooperation center tried to achieve fictitious victories to turn the view of their fighters from the huge losses it suffered in Sarāqib, affirming that the operations of the Syrian Army are continuing until its goals are achieved.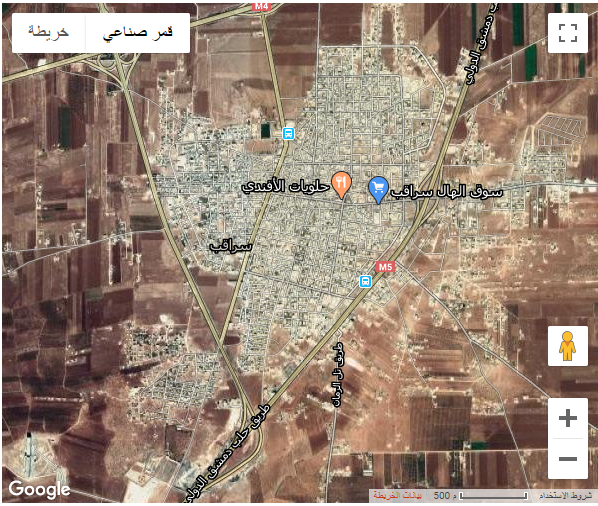 ---
الجيش السوري يبدأ بتمشيط سراقب وإزالة الألغام والمفخخات فيها
06 شباط 15:18
الميادين نت
الجيش السوري يدخل سراقب ويبدأ بتمشيطها وإزالة الألغام والمفخخات من مخلفات الجماعات المسلحة
سيطر الجيش السوري على مدينة سراقب، ثالث كبرى المدن، التي استعادها بعد معرة النعمان وخان شيخون بريف إدلب
وباشر الجيش السوري بتمشيط المدينة وإزالة الألغام والمفخخات فيها
وجاءت سيطرة الجيش السوري على المدينة بعد تطويقها من 3 محاور، وإطباق الحصار عليها من المحور الشمالي الأخير، بسيطرته على بلدات آفس والصالحية ومعارة عليا
وأفادت مصادر الميادين نت أن الجيش السوري بدأ عملية تمشيط دقيقة لأحياء المدينة التي زرع فيها المسلحون عدداً كبيراً من الألغام والعبوات الناسفة، إلى جانب توفر معلومات عن وقوع مجموعة من المسلحين بالحصار داخل أحد الأحياء حيث يتم التعامل معهم إما بتسليم أنفسهم أو القضاء عليهم في حال رفضوا ذلك
وتشكّل سراقب نقطة التقاء بين اوتسترادي حلب-دمشق، وحلب-اللاذقية، كنقطة تربط محافظتي حلب وإدلب باللاذقية غرباً
من جهة أخرى، أعلنت الفصائل المسلحة وأبرزها "هيئة تحرير الشام" و"أنصار التوحيد" الموالية لـ"تنظيم القاعدة" معركة ضد الجيش السوري في بلدة النيرب غرب مدينة سراقب، والتي تبعد عن مدينة إدلب نحو 9 كم
مصادر الميادين نت أشارت إلى أن الفصائل المسلحة حولت الأراضي الزراعية المحيطة بمدينة إدلب وصولاً إلى محاور القتال على جبهة النيرب، إلى مرابض للمدفعية والراجمات ومدافع الهاون
وأعلنت تنسيقيات المسلحين أن مدفعيات الجيش التركي تساند الفصائل المسلحة في ضرب مواقع الجيش السوري على محور بلدة النيرب، في حين لم ترِد أي معلومات حتى الآن من مصادر عسكرية سورية حول حقيقة التطورات على هذه الجبهة
وأكدت مصادر ميدانية أن الفصائل المسلحة تحاول عبر تنسيقياتها تحقيق انتصارات وهمية لجذب أنظار أنصارها عن الخسائر الكبيرة التي تعرضت لها في سراقب، مشددةً على أن عمليات الجيش السوري مستمرة حتى تحقيق هدفها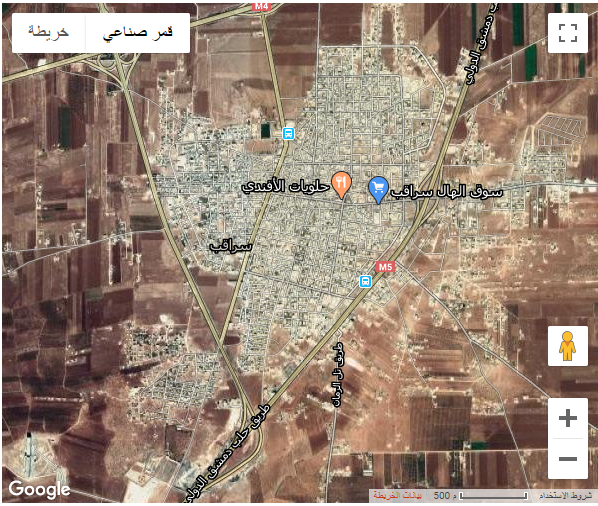 ---